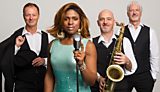 Die Formation FOUR FOR THE BLUES interpretiert in traditioneller Combobesetzung mit Piano, Kontrabass, Schlagzeug und Gesang die beliebtesten Kompositionen und Perlen der Jazzmusikgeschichte. Das Repertoire setzt sich zusammen aus Swing-Standards, Bossa Nova, Balladen, Blues und Soul.

Im Mittelpunkt der Formation steht JANET DAWKINS aus London, die wegen ihrer warmen und souligen Stimme auch die Sängerin mit der goldenen Stimme genannt wird.




Die Band tritt bei Bedarf auch als THREE FOR THE BLUES auf, dann ohne Schlagzeug. Die Besetzung Piano, Kontrabass und Gesang verleiht der Musik einen noch dezenteren und transparenteren Sound. Dies eignet sich dann besonders als sehr dezente Dinnermusik im Hintergrund bei speziell festlichen Anlässen, Vernissagen und Geschäftsapéros.

Für weitere Infos bitte hier klicken!