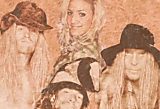 Rednex zeigt dem Publikum eine Performance der Superlative: Mega-Hits, eine perfekte Bühnenshow und viel "Wild, Wild West".

Was 1992 in Stockholm als spielerisches Experiment begonnen hat, ist heute ein grosses, aber noch immer in lockerer Atmosphäre arbeitendes kreatives Team.

"Cotton Eye Joe", "Wish You Were Here", "Spirit Of The Hawk", oder die wunderschöne Ballade "Hold Me For A While" waren die Tophits der Schweden.