Candy Sisters & The Swinging Sailors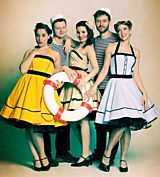 Sie suchen eine Show mit Humor und einer gehörigen Portion "Swissness"? Dann sind die Candy Sisters mit ihren swingenden Matrosen die ultimative Lösung Ihres Problems. Maxine Jellybean, Loreley Sweetie Pie und Simone Toblerone entführen Sie und Ihre Gäste in alte Swingzeiten, lassen aber auch Schweizer Tophits aus den damaligen Charts aufblitzen. Witzige Worteskapaden amüsieren die Zuschauer. Mit einem bestechenden Sologesang, meist begleitet von Backing-Vocals oder unisono, werden bekannte Stücke frisch zubereitet und mit Candy versüsst dargeboten.

Ein Abstecher nach Arosa zum Gigi oder zu Lollipop, ein Candyman mit Rum and Coca Cola – ja sogar der Mr. Sandman lässt sich auf die ureigene Candy Sisters Art den Himmel vo Züri als Dach verkaufen. Man kennt die Stücke, aber die neue und frische Bearbeitung lässt die Zuschauer in eine ungeahnt intensive Gefühlswelt eintauchen.

Candy Sisters & The Swinging Sailors (Trailer) Video