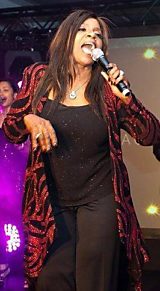 Es war Ende der Siebziger Jahre, als Gloria Gaynor mit ihrem Überlebensmotto "I Will Survive" ein Stück Popgeschichte schrieb.

Der Titel wurde zur grossen Hymne der Disco-Musik und 1979 mit dem Grammy für die beste Disco-Single ausgezeichnet.

Und Gloria Gaynor entwickelte weiter unbeirrt von den wechselnden Musiktrends ihren eigenen unverwechselbaren Stil, der auch von Soul- und Gospel-Elementen beeinflusst wurde. Heute erfährt die Disco-Musik ein Revival. Und mit dabei, ganz nach ihrem Motto "I Will Survive", ist die Queen of Disco - Gloria Gaynor.

Hits: I Will Survive, Never Can Say Goodbye, I Am What I Am, Reach Out I'll Be There, Honey Bee.

I Will Survive (live)@Radio City Music Hall Video