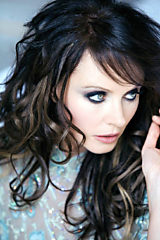 Sarah Brightman ist nicht nur eine der populärsten Sopranistinnen unserer Zeit, sie ist auch die alles beherrschende Regentin des Crossover, die Reinkarnation eines Broadwaystars als Stil übergreifende Pop-Diva. Der Sängerin ist es mit Bravour gelungen, die perfekte Symbiose aus Pop und Klassik, aus der Leichtigkeit des Musicals und der Schwere der Oper, aus innovativ moderner Performance und schillerndem Reichtum der Weltmusik zu kreieren. Kurzum, Sarah Brightman ist eine Entertainerin der Extraklasse und ein absoluter Blickfang. Mit ihrer kraftvollen Stimme intoniert sie alle Songs, die sie weltweit berühmt gemacht haben: Von der "Phantom Of The Opera Suite" über "Time To Say Goodbye" und "Question Of Honour" bis "La Luna".

Puccinis Meisterarie "Nessun Dorma" interpretiert sie mit derselben Grandezza wie Evergreens der Popmusik von "What A Wonderful World" bis "Who Wants To Live Forever".

Sarah Brightman steht ausschliesslich für ausgewählte Corporate Events zur Verfügung. Rufen Sie uns für nähere Details an.

Scarborough Fair@Beijing International Film Festival 2013 Video