Lady Amila - Female Magician, Illusionist, Mentalist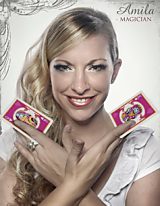 Als einzige Mentalmagierin und Illusionistin Deutschlands ist Amila bereits ein Phänomen in der von Männern dominierten Zauberwelt. Sie ist hier unbestritten die First-Lady und stellt dabei diese Männerdomäne ganz gehörig auf den Kopf.

Bei ihren weltweiten Auftritten zeigt die Zauberin, wie sie mit einer faszinierenden Leichtigkeit das Publikum um den Finger wickeln kann. Mit der Teilnahme an der Pro7 Sendung "The next Uri Geller" war Lady Amila ein ganz besonderes Highlight und verzauberte zahlreiche prominente Gäste. Grossmeister Uri Geller sagt von ihr: "One of the best female mystifiers I have met".

Charmant, frech und sexy präsentiert Lady Amila niveauvolle und spannende Unterhaltung live und hautnah für ein anspruchsvolles Publikum. Sie wird Ihre Gedanken kennen, Ihren Kopf verdrehen, Ihren freien Willen beeinflussen - und, Sie werden sie dafür lieben!

Lady Amila (Teaser) - Video

Le plus grand cabaret du monde / Head-off Illusion - Video