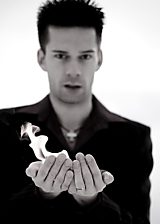 Illusionist - Magier - Zauberer! Tauchen Sie ein in die Welt von The Magic Man. Schon seit weit über 10 Jahren verblüfft der professionelle Magier sein Publikum mit witzigen Tricks und Illusionen. Charmant und redegewandt bringt The Magic Man die Zuschauer nicht nur zum Staunen, sondern auch zum Lachen. Für kleinere wie auch für ganz grosse Events sind verschiedene Shows im Angebot.
Das Soloprogramm ist für kleinere Events die ideale Wahl um Ihre Gäste hautnah in fasziniertes Staunen zu versetzen. Das Showprogramm eignet sich für grössere Veranstaltungen. Hier verblüfft der Magier - gemeinsam mit seiner hübschen Assistentin - mit atemberaubenden Zaubereffekten.

Ihre Grossveranstaltung oder Gala wird mit der Inszenierung der einmaligen Bühnenshow - und unterstützt durch seine charmanten Assistentinnen - zu einem ganz besonderen Event-Highlight der Extraklasse.

Showprogramm / Bühnenshow (Teaser) - Video