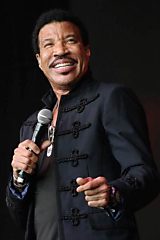 Der Grandseigneur des Schmusepops ist ohne Zweifel einer der am meist gehörten und geehrten Acts der Gegenwart - hat er doch rund 100 Millionen Alben verkauft und 22 Hits in den Top Ten platziert.

Das atemberaubende Resultat - neben stapelweise "American Music Awards" und "People's Choice Awards" - sind es fünf "Grammy Awards", ein "Oscar" und ein "Golden Globe", die seine Regale schmücken.

Stücke wie "Hello", "All Night Long" und "Dancing On The Ceiling" dürfen heute als Standards gelten, aber auch mit seiner Mitarbeit an "We Are The World", der US-Hymne für das Live Aid-Spektakel, hat sich Lionel Richie in das Geschichtsbuch der Musik eingetragen.

Lionel Richie steht ausschliesslich für ausgewählte Corporate Events zur Verfügung. Rufen Sie uns für nähere Details an.

Just For You feat. Billy Currington (Tuskegee 2012) Video

Hello Video

Brick House - Live Video