Thank You For The Music - A Tribute to ABBA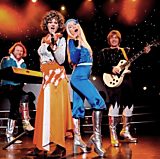 Bis heute hat die legendäre schwedische Kultband ABBA nichts von ihrer Anziehungskraft eingebüsst.
Auch wenn das Quartett seit langem nicht mehr auf der Bühne steht, so können Sie sich dennoch ganz der Illusion der Wiederauferstehung von Agnetha, Anni-Frid, Benny und Björn hingeben.
Tauchen Sie ein in die Partyzeit der 70er Jahre. Von "Waterloo", über "Mamma Mia" und "Fernando" bis hin zu "Take A Chance On Me" und "Dancing Queen" geht die musikalische Zeitreise!
THANK YOU FOR THE MUSIC ist nicht nur eine Formation, die ABBA verblüffend ähnlich sieht, sondern auch vom Gesang her perfekt mit ihren skandinavischen Vorbildern übereinstimmt. Sie bilden ein perfekt eingespieltes Team – sie spielen und singen die ABBA-Songs nicht nur, sie leben die Show der vier Musiker. Die beste ABBA-Show seit ABBA!

Thank You For The Music - A Tribute to ABBA (Teaser) Video