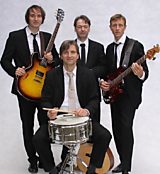 Der Name ist Programm: The Beat Brothers spielen all die Hammerhits der 60er & 70er Jahre. Als die Sixties noch golden und die Seventies noch wild waren, entstanden unzählige Hits und Evergreens, die inzwischen Kult sind. Das quirlige Quartett bringt die besten Songs der Beatles, der Rolling Stones, von The Who und jede Menge anderer Welthits dieser Ära auf die Bühne. Absolut live und handgemacht. Mit zwei Gitarren, Bass, Schlagzeug, viermal Gesang und einer tollen Show. Mittlerweile kommen aber auch immer mehr aktuellere Songs ins Repertoire.

Wie zum Beispiel Hits von Adele, Coldplay oder Queen. Die musikalische Bandbreite ist gross: sensible Balladen, flockige Midtempo-Nummern und deftige Rocksongs. Alles, was in den Sixties und Seventies einen Namen hatte, fügt sich zu einer aufregenden Performance zusammen.



Auch (almost) unplugged möglich!

Wipe Out (Live@Frankenthaler Sommerfestival) - Video

Twist And Shout (Live@Frankenthaler Sommerfestival) - Video

Honky Tonk Women - (almost) unplugged - Video

Help!

Let's Spend The Night Together

It Never Rains In Southern California (Snippet)

Hotel California (Snippet)